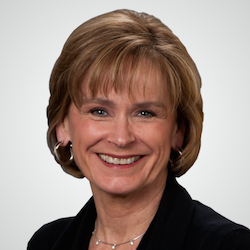 "I think my practice is unique in the quantity and quality of time devoted to every patient's problems and concerns."
Catherine Yaussy, M.D. became a physician because even though she enjoyed interacting with patients in her first career as a physical therapist, she wanted to treat the whole person. Her father was also a doctor, and that encouraged her to go into the medical field. She chose gastroenterology as her specialty because she liked the ability to perform endoscopic procedures. She loves spending time with patients, getting to know them and working with them to understand their problems and complaints.
Dr. Yaussy is trained in the majority of GI procedure techniques. Over the past 20 years, her practice has been focused on outpatient gastrointestinal issues including irritable bowel syndrome (IBS), acid reflux (GERD), inflammatory bowel diseases (IBD) such as Crohn's and ulcerative colitis, and colon cancer screening. She also explores the multitude of women's GI issues and other general GI problems.
Dr. Yaussy thinks that patients should come to Digestive Health Associates of Texas because of the individually personalized care they will receive at the facility. She believes in spending the time to really listen to each of her patients, ensuring that all get the unique attention and care they deserve.
In addition to her work at DHAT, Dr. Yaussy is also an attending gastroenterologist at Baylor University Medical Center. She also holds the distinction of being one of the first female gastroenterologists to serve the DFW area.
While Dr. Yaussy was doing her undergraduate and graduate work at USC, she swam on the swim team, attaining "All American" status. She continues to swim with the Dallas Aquatic Masters. When she's not working or swimming, Dr. Yaussy enjoys her book club and traveling with her family. She is married to a physician and together they have one son.
Education, Memberships, Awards, and Affiliations
Bachelor's degree, University of Southern California Los Angeles (magna cum laude)
Master's degree in Physical Therapy, University of Southern California – Los Angeles
Medical School, George Washington University (graduated with distinction)
Residency in Internal Medicine, Baylor University Medical Center – Dallas
Fellowships in Gastroenterology, Baylor University Medical Center – Dallas
American College of Gastroenterology
American Gastroenterological Association
American Society of Gastrointestinal Endoscopy
Texas Society for Gastrointestinal Endoscopy
Texas Medical Association
Texas Medical Foundation