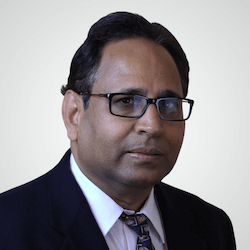 "In all honesty Dr. Alloju saved my life. He sent me straight to the hospital from his office. I was jaundice, toxic lithium levels and kidney failure. He removed a 54mm. huge gall stone from my bile duct in my liver. I can't thank him enough for his wonderful care!"
Specialty: Internal Medicine, Gastroenterology
Board Certified: Internal Medicine and Gastroenterology
Fellowship: Gastroenterology, Wayne State University, Detroit Medical Center, Detroit, Michigan
Residency: Internal Medicine, Medical College of Ohio, Toledo University, Toledo, Ohio
Internship: Internal Medicine & Physiology, Kakatiya Medical College, India
M.D.: Kakatiya Medical College, India
VV College, Hyderabad, India
Dr. Alloju comes from a family of physicians and knew from an early age he wanted to follow on their footsteps. He choose gastroenterology because of the therapeutic treatment aspects as well as the opportunity to do procedures.
His calm, easy going demeanor, combined with his detailed and analytical skills allows him to best care for his patients.
When he's not working, Dr. Alloju simply enjoys relaxing at home, watching classic television such as The Cosby Show, or reading medical books in an effort to continue to learn and grow.