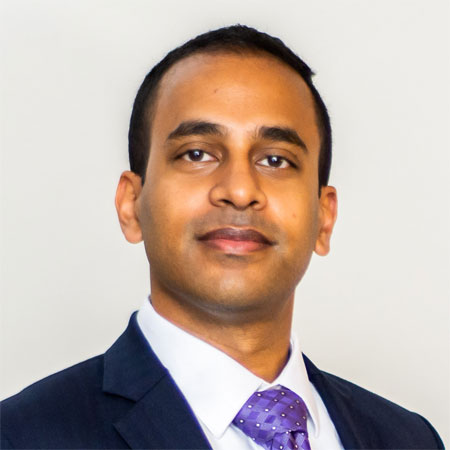 "I aim to combine the latest in medical research with old-fashioned, compassionate, patient-centered care."
Specialty: Internal Medicine, Gastroenterology
Board Certified: Internal Medicine, Gastroenterology
Languages Spoken: English, Spanish
Expertise: Practicing medicine since 2017, Joined DHAT in 2018
Residency: Internal Medicine, University of Colorado Anschutz Medical Campus –
Aurora, CO
Medical Doctorate: Feinberg School of Medicine, Northwestern University – Chicago, IL
Bachelor's Degree: Northwestern University – Chicago, IL
Fellowship: Gastroenterology, University of Illinois Chicago – Chicago, IL
American College of Gastroenterology
American Gastroenterology Association
Dallas County Medical Society
Texas Medical Association
Vineel Kankanala, M.D. knew from an early age that he wanted to be a doctor. Both of his parents were physicians, and he loved that their work was both meaningful and interesting. As he grew older, he came to appreciate how medicine allowed him to combine his two loves: science and working with people.
When he was in medical school, Dr. Kankanala found the gastrointestinal system to be the most interesting in medicine. Gastroenterology also provided him with the best opportunity to work with his hands (performing endoscopic procedures) as well as have extensive patient contact. He said it's the closest he can get to playing video games at work!
Dr. Kankanala has an extensive history of leadership in education. While he was in medical school, he was an instructor for a problem-based learning course to second-year medical students (2010-2011), and he was selected to interview potential candidates for Northwestern University's Honors Program in Medical Education in 2011. From 2013-2014, he served as a resident advisor in the University of Colorado Medical School's newly-implemented college mentoring system. From 2015-2017, he was on the University of Illinois – Chicago's GI Program Evaluation Committee, and he was one of two fellows selected to handle the administrative duties previously performed by a "chief fellow."
Dr. Kankanala has received clinical honors in pediatrics, neurology, psychiatry, diagnostic radiology, and dermatology during his medical career. While he was a resident in Internal Medicine, he received the Rick Albert Prize after he was judged to have the best research poster among all 168 residents. He was also nominated as one of the four top fellows from all of the Internal Medicine subspecialties for Fellow of the Year in 2017.
While Dr. Kankanala treats numerous gastrointestinal and liver issues, he has a special interest in treating irritable bowel syndrome, as he thinks he can make a big difference in the lives of people with IBS.
Dr. Kankanala believes Digestive Health Associates of Texas is different from other GI practices because of the time they're willing to take with their patients. While many gastroenterologists focus solely on performing procedures, DHAT focuses on the patient as a whole, doing what needs to be done to help get GI disorders under control.
When he's not working, Dr. Kankanala enjoys traveling, hiking, golfing, and reading. He speaks conversational and medical Spanish, and he is an accomplished Eagle Scout.
Contact us today and schedule your visit with an experienced gastroenterologist.