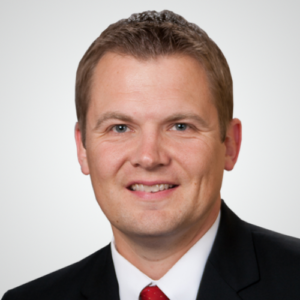 Growing up, Dr. Eidem played QB and dreamed of being a professional football player. Although those dreams weren't realized his love of the game has never diminished. A self-admitted fantasy football junkie, he enjoys participating in several different leagues every fall.
His colleagues would describe him as friendly, personable and genuine, all characteristics he displays in his approach to patient care.
When he's not watching football, his favorite things include watching his kids participate in their respective sports and enjoying family vacations in Madeira Beach, Florida.
"I strive to provide my patients with individual attention and cutting edge compassionate care."
Education, Memberships, Awards, and Affiliations
Bachelor's Degree, North Dakota State University
Medical School, University of Minnesota – Minneapolis
Residency in Internal Medicine, University of Texas Health Science Center – San Antonio
Fellowship in Gastroenterology, University of Texas Health Science Center – San Antonio
American College of Gastroenterology
American Society of Gastrointestinal Endoscopy
Texas Medical Association
Matthew Eidem, M.D. was born and raised in rural Minnesota, and he received his Bachelor's degree from North Dakota State University. Originally, he wanted to be a pharmacist, but his interactions with physicians while he was working as a pharmacy technician led him to become a doctor himself. Dr. Eidem earned his Doctor of Medicine degree from the University of Minnesota. During his 3rd year of medical school, his mentor suggested that he explore the field of gastroenterology.
Dr. Eidem completed his residency in Internal Medicine and a fellowship in gastroenterology at the University of Texas Health Science Center in San Antonio, Texas, where he was Resident and Fellow of the Year every year he attended.
In his practice, Dr. Eidem has a special interest in performing screening colonoscopies, in addition to treating colon cancer, acid reflux/GERD (gastroesophageal reflux disease), inflammatory bowel diseases (such as Crohn's and colitis), and irritable bowel syndrome.
Dr. Eidem is currently an Executive Committee member at Digestive Health Associates of Texas. He is proud to be associated with DHAT because of their emphasis on patient satisfaction and their friendly staff, along with their efficiency and cost-effectiveness. "We provide compassionate, state-of-the-art care in a comforting environment."
Dr. Eidem is married and has two children. He enjoys sports-related hobbies, and he is an avid sports fan— he especially loves cheering for his Minnesota Vikings! He is also fond of traveling and spending time with his family and friends. He is active in both the Crohn's and Colitis Foundation and his church.