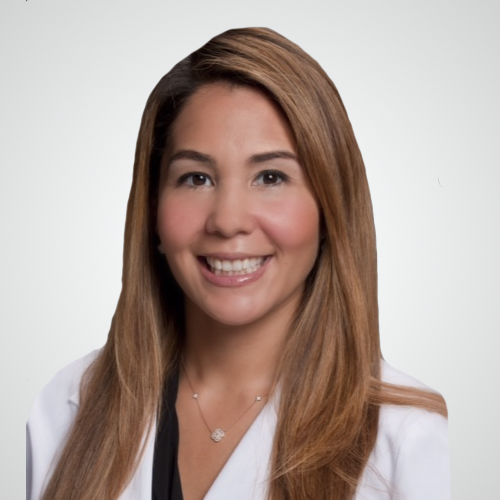 "Patients' concerns and preferences are always a priority when forming treatment plans, and I feel this is an important part to maintaining the patient-to- physician relationship and key to treating disease."
Lisa Alvarez, M.D. became a doctor because of her desire to help people, and she is the first doctor in her family. "Ever since I was young, I have had a love for science and the human body, and I wanted to apply this passion to help people on a personal level.  Becoming a doctor granted me the art of being able to connect with people while treating their disease and/or ailments." She chose to go into the field of gastroenterology specifically because she has always been interested in nutrition, and gastroenterology provided the chance to perform endoscopic procedures.
Dr. Alvarez got her Bachelor's degree at Trinity University in San Antonio, and she went on to medical school at the University of Texas Health Science Center in San Antonio. She did her residency at Northwestern University in Chicago, then did a fellowship in gastroenterology at UT Southwestern Medical School here in Dallas.
Dr. Alvarez treats acid reflux (GERD), irritable bowel syndrome, peptic ulcer disease, gas/bloating, chronic abdominal pain, inflammatory bowel disease, chronic liver disease, bleeding from the gastrointestinal tract, and constipation, as well as performing colon cancer screenings.  She is fully trained in upper endoscopy, video capsule endoscopy, and colonoscopy.
Dr. Alvarez recommends Digestive Health Associates of Texas because of the pleasant environment, the accessibility of the doctors, and the emphasis that is placed on patient care.
She is affiliated with Texas Health Presbyterian Hospital in Dallas, and she performs gastroenterology procedures at DHC of Dallas.
In her downtime, Dr. Alvarez enjoys vinyasa yoga, and she is a certified yoga instructor.
Education, Memberships, Awards, and Affiliations
Undergrad: Trinity University, San Antonio, TX
Medical School: University of Texas Health Science Center, San Antonio, TX
Residency: Northwestern University, Chicago, IL
Fellowship in Gastroenterology, University of Texas Southwestern Medical School, Dallas, TX
American College of Gastroenterology
American Gastroenterological Association
American Medical Association