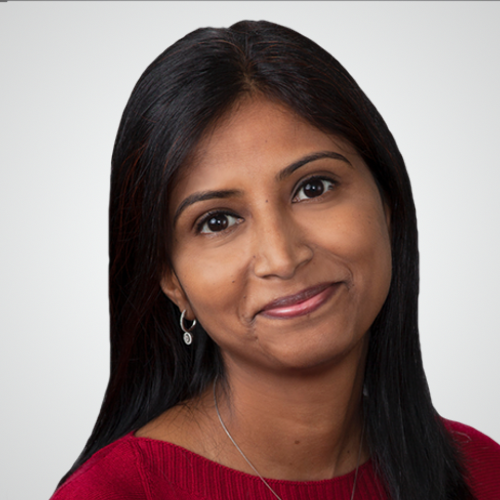 "As your physician, I value my relationship with you. A good patient/physician relationship is built on communication and staying connected with all your providers. I take it as a privilege to help address your concerns, educate you about your health condition, and value your preferences. I am honored and grateful to all my patients who have entrusted me with their care."
Priya Rangasamy, M.D. grew up in India, where becoming a physician was her long-cherished dream. "It gives me immense satisfaction to be working with patients and helping them to alleviate their suffering." She completed her medical school training at Coimbatore Medical College in India, then came to the United States shortly after her graduation in 2002.
Her interest in Gastroenterology began during her residency in Internal Medicine at the University of Connecticut. "Influenced by an excellent team of clinicians and research mentors, I decided to pursue my career in Gastroenterology because it is a versatile subspecialty which allows us to treat a variety of diseases along with utilization of endoscopic skills." She also enjoys the pathology aspect of gastroenterology, and she likes that she can have an immediate impact on her patients. Dr. Rangasamy strives to provide a long-term relationship with her patients, and she wants them to have trust and confidence in her.
Dr. Rangasamy's specific areas of interest in the field of gastroenterology are in screening colonoscopies, women's health, and inflammatory bowel disease. She said the widespread realization that nutrition and dietary changes affect gastrointestinal health has changed the way she practices medicine. Patients are also more knowledgeable about specific gastrointestinal issues such as IBS and IBD because of the wealth of information available. She thinks DHAT is special because of the convenient locations, friendly staff and competent physicians.
She has been recognized with a Program Director's Award during her residency at the University of Connecticut, National Merit Scholarship from the Government of India, National Scholarship excellence award, and a Certificate of Merit from the Headmaster's Council.
Dr. Rangasamy has a daughter, and when she's away from work, she enjoys traveling and spending time with her friends and family.
Education, Memberships, Awards, and Affiliations
Medical School, Coimbatore Medical College – Coimbatore, India
Internship in Internal Medicine, University of Connecticut Health Center – Farmington, CT
Residency in Internal Medicine, University of Connecticut Health Center – Farmington, CT
Fellowship in Gastroenterology/Hepatology, University of Connecticut Health Center – Farmington, CT
Member, American College of Gastroenterology
Member, American Gastroenterological Association
Member, Tarrant County Medical Society
Member, Texas Medical Association