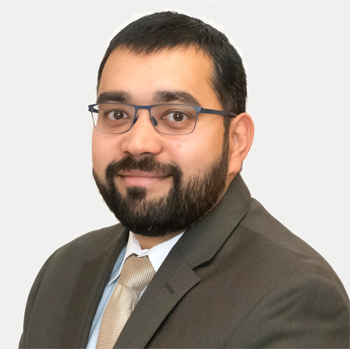 "My goal with all of my patients is to be a compassionate and effective health care provider who is focused on their needs."

-Syed Hasan, M.D., Digestive Health Associates of Texas in Dallas, TX
Syed Hasan, M.D., M.P.H. received his Bachelor of Arts degree from the University of Texas at Austin in Urdu literature and Biology. He then went on to get a Master's degree in Public Health with an emphasis on social and behavioral health at the Texas A&M University Health Science Center's School of Rural Public Health. Next he got his medical doctorate from the Texas A&M University Health Science Center's College of Medicine, and he completed his residency in Internal Medicine and a fellowship in Gastroenterology at Baylor Scott and White Health in Temple, TX.
During his medical education, Dr. Hasan was recognized for outstanding work in his internship, where he won the Intern of the Year award, and in his residency, where he was voted as VA Resident of the Year. He also won a teaching award for Excellence in Mentoring Medical Students and has been a member of the Gold Humanism Honor Society since 2013.
Dr. Hasan approaches his practice with a public health outlook, and he is interested in quality assurance and its clinical applications. He has a special interest in the treatment of liver diseases (including viral hepatitis and NAFLD), inflammatory bowel diseases (such as Crohn's and colitis), and functional GI disorders.
Dr. Hasan is very adept at performing endoscopic procedures, completing over 800 unassisted colonoscopies (where he has a 49% Adenoma Detection Rate) and over 500 unassisted upper endoscopies. He is also proficient in fecal microbiome transplant (FMT).
Education, Memberships, Awards, and Affiliations
Bachelor of Arts in Urdu Literature and Biology, University of Texas – Austin, TX
Master of Public Health, Texas A&M University Health Science Center, School of Rural Public Health – College Station, TX
Medical Doctorate, Texas A&M University Health Science Center, College of Medicine – College Station, TX
Residency in Internal Medicine, Texas A&M University Health Science Center, Scott and White Healthcare – Temple, TX
Fellowship in Gastroenterology, Texas A&M University Health Science Center, Baylor Scott and White Health – Temple, TX
American Medical Association
Texas Medical Association
American College of Physicians
American College of Gastroenterology