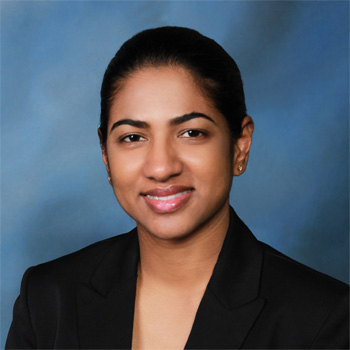 Dr. Kumaravel has always wanted to be a doctor. One of the biggest influences in her life was her grandfather, who was an old school physician who would make home visits. Growing up, she loved hearing his patient stories and knew she wanted to follow in his footsteps in regards to patient care.
Self-described as patient, easy going and concise, her goal is to always see and understand her patients' perspectives, listening to their concerns so she can better care for them.
During her free time, she enjoys being outdoors, whether it's walking or hiking a trail or simply taking her kids to the park where they can play as she enjoys a cup of coffee. Hawaii is her top vacation destination, where you can find her enjoying a Mai Tai. One day she dreams of fulfilling one of her travel goals – going on an African Safari.
Education, Memberships, Awards, and Affiliations
American College of Gastroenterology
American Society for Gastrointestinal Endoscopy
American Gastroenterology Association
Dallas County Medical Society
Texas Medical Association
Medical School: P.S.G. Institute of Medical Sciences and Research – Peelamedu, Coimbatore, Tamil Nadu, India
Internship in Internal Medicine: Creighton University Medical Center – Omaha, NE
Residency in Internal Medicine: Cleveland Clinic – Cleveland, OH
Fellowship in Gastroenterology: Aurora Sinai Medical Center – Milwaukee, WI
Affiliated with Methodist Richardson Medical Center and Digestive Health Center of Plano in Plano
Veena Kumaravel, M.D. attended medical school at the P.S.G. Institute of Medical Sciences & Research in Peelamedu, Coimbatore, Tamil Nadu, India. She then traveled to the United States to complete an internship in Internal Medicine at Creighton University Medical Center in Omaha, Nebraska. She headed to Cleveland, Ohio next for her residency in Internal Medicine, then finished her medical education with a Fellowship in Gastroenterology at Aurora Sinai Medical Center in Milwaukee, Wisconsin.
Dr. Kumaravel's specific areas of interest within the field of gastroenterology are in treating pregnancy-related gastrointestinal issues and IBD (inflammatory bowel disease), such as Crohn's disease and colitis.
When she is not working at the Digestive Health Centers of Texas, her hobbies include reading books, kayaking, skiing, and traveling.
Contact us today to speak with an experienced gastroenterologist.