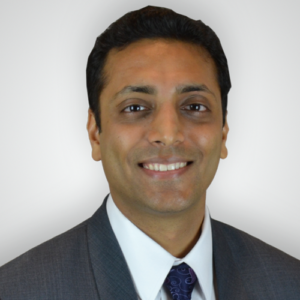 "The most valuable thing I can offer my patients is my time. Treating patients with medicines and endoscopic procedures is our job, but what makes us real physicians is spending time with our patients to listen and educate."
Prashant Kedia, M.D. always wanted to become a doctor. "I come from a family of physicians and have known since I was young that medicine would be my career passion," he shared. He chose gastroenterology as his specialty because it enabled him pursue all of his academic and teaching interests while being able to take care of patients in a variety of fashions.  "Gastroenterology involves the care of patients with both acute and chronic diseases who require medical and interventional care with procedures.  I have the pleasure of developing relationships with patients over time, yet I also get the immediate gratification of curing/managing disease with endoscopic procedures.  My particular interests also involve the rapidly evolving field of therapeutic endoscopy, which is offering new minimally invasive options for patient management."
Dr. Kedia has a passion for advanced endoscopic procedures, therapeutic endoscopic ultrasound, and endoscopic treatment of acid reflux and obesity. He is credentialed in performing ERCP, EUS, endoscopic submucosal dissection (ESD), peroral endoscopic myotomy (POEM), endoscopic suturing and transoral incisionless fundoplication. He also offers diagnostic and therapeutic procedures for disorders of the pancreas (cysts, cancer, and pancreatitis) and bile duct (stones, strictures, and cancer).
Dr. Kedia was recognized as one of D magazines Top Doctors for the 2016, voted DHAT's 'nicest physician' for 2016, and he was interviewed for a WFAA midday news segment regarding GERD management on 4/5/2017. In addition to his current appointment as Medical Director of Interventional Endoscopy at Methodist Dallas Medical Center, he has over 40 peer reviewed publications regarding gastroenterology and endoscopy disorders as well as multiple online videos on the MDMC website.
When he is away from the office, Dr. Kedia is a reader, tennis player, photographer, and avid New Orleans Saints fan.
Education, Memberships, Awards, and Affiliations
BA in Economics, Columbia University, New York, NY
Medical School: University of Chicago Pritzker School of Medicine, Chicago, IL
Residency in Internal Medicine, University of Pennsylvania Perelman School of Medicine, Philadelphia, PA
Fellowship in Gastroenterology, Icahn School of Medicine at Mount Sinai, New York, NY
Fellowship in Advanced/Interventional Endoscopy, Weill Cornell Medical College, New York, NY
American College of Gastroenterology
American Gastroenterological Association
American Society of Gastrointestinal Endoscopy
Texas Society for Gastroenterology and Endoscopy