Foods That Cause Heartburn & Foods That Help Heartburn
There are several foods that tend to trigger heartburn symptoms in a large number of people. Most of these foods relax your esophageal sphincter (LES), which is the muscle that connects your esophagus to your stomach. When this muscle relaxes, acid can flow back into your esophagus, causing heartburn.
Foods That Cause Heartburn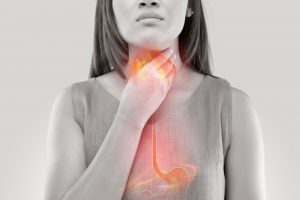 To identify your specific trigger foods, consider keeping a food diary for at least a week. This can help you track your intake of certain foods so you can find patterns. You may benefit from an elimination diet to help you pinpoint your specific trigger foods, but it is generally recommended to avoid the following:
Spicy foods
Fatty or fried foods
Chocolate
Citrus or tomato products
Peppermint
Onions/garlic
Alcohol
Coffee or other caffeinated beverages
Carbonated beverages
Spicy Foods
Strong spices can irritate the lining of your stomach.
Fatty or fried foods
Fatty/fried foods are the most commonly identified causes of heartburn. They tend to sit in your stomach longer, which increases the risk that your stomach acid will back up into your esophagus.
Chocolate
Chocolate includes ingredients called methylxanthine and theobromine, which have been proven to relax the LES. It also has high levels of fat and caffeine, making it a common heartburn triple threat.
Citrus or tomato products
Because of the high acid content in both citrus fruit and tomatoes, the acid that your stomach produces to digest them may cause excess acid to back up. Acidic foods can also irritate the already-damaged lining of your esophagus. This category includes anything made with citrus fruits or tomatoes, including juices, condiments, and pasta sauce.
Peppermint
Peppermint increases acid production in your stomach, making it a possible heartburn trigger.
Onions/garlic
Onions and garlic don't cause heartburn in everyone, but they affect enough people that the medical community suggests tracking these foods in your diary. Raw onions are especially acidic, so cooking onions completely before consumption may ease your heartburn symptoms.
Alcohol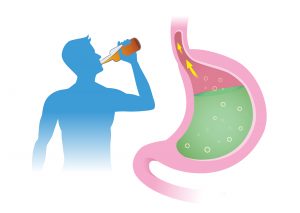 All alcohol can cause acid reflux, and heavy alcohol consumptions has been found to be a risk factor for development of reflux. Alcohol also causes damage to the mucosal lining of your stomach and esophagus.
Coffee or other caffeinated beverages
The acidity of coffee and soda could cause heartburn symptoms. Caffeine has been shown to stimulate acid production in your stomach, which can result in more reflux symptoms.
Carbonated beverages
The bubbles in carbonated drinks increase pressure in the stomach, making it more likely for acid to push back up into your esophagus.
Foods That Help Reduce Heartburn
While there is no specific diet that is recommended to prevent heartburn, research has shown that a high-fiber, low-fat diet heavy in lean meats, fruits and vegetables, and whole grains could ease your heartburn symptoms. The following foods may help manage your symptoms:
Vegetables/non-citrus fruits
Herbal remedies
Oatmeal
Lean meats
Water
Healthy fats
Vegetables/non-citrus fruits:
Fruits and veggies are packed with fiber and they're low in fat. Studies have shown that increased fiber helps to reduce stomach acid.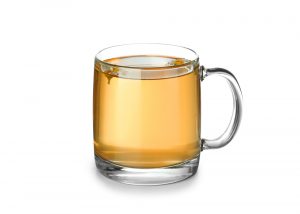 Herbal remedies:
Ginger is recognized as a natural anti-inflammatory, and it's a good choice to treat heartburn and other gastrointestinal problems. Licorice helps to increase mucus in the lining of your esophagus, which helps to protect and soothe. Chamomile may have a comforting effect on the digestive tract, but it's best to avoid it if you have a ragweed allergy. Consider adding a bit of ginger, licorice, or chamomile into smoothies or try drinking them in (non-caffeinated) teas.
Oatmeal:
Oatmeal is a low-fat, high-fiber meal that is excellent at absorbing excess stomach acid and reducing your acid reflux symptoms. Additionally, consider topping it with sliced bananas, since they're shown to naturally fight acid. Bananas stick to the inflamed lining of your esophagus, protecting you and easing your symptoms.
Lean meats:
Opt for lean meats instead of fatty varieties to limit heartburn. 
Water:
Since most water has a neutral pH (7), it can help counteract the pH of acidic foods. Choosing water will also help you avoid other heartburn-inducing beverages such as soda.
Healthy fats:
Avocados, olive oil, and nuts are healthy fats. To ease your heartburn symptoms, limit your intake of saturated/trans fats and choose healthy fats instead.
This article is meant for informational purposes only. If you suffer from frequent heartburn, a board-certified gastroenterologist can help assess your GI problems and treat your symptoms