American Cancer Society Changes Recommended Colonoscopy Age from 50 to 45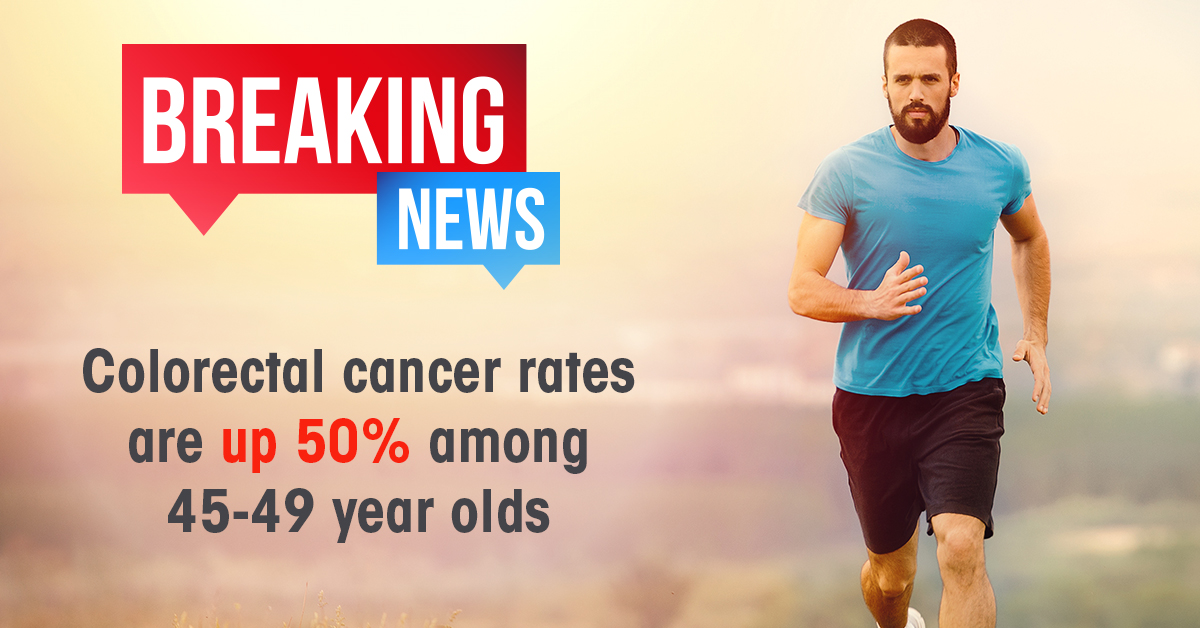 Yale Medicine Colon & Rectal surgeons report seeing young patients with a diagnosis of colorectal cancer more often these days, and during one week last year they saw seven patients aged 35 or under with rectal cancer.
This experience on the ground backs up research by the American Cancer Society, who have found that people born in 1990 have double the risk of colon cancer and quadruple the risk of rectal cancer compared to people born around 1950. A team at the University of Arizona at Tucson has also estimated that currently, 30 percent of colorectal cancer cases are diagnosed in people under 50 – with 62 percent of those cases diagnosed in young women.
These statistics have led the American Cancer Society to lower its recommendation for first-time colon cancer screenings from age 50 to age 45*. But is that enough?
Old Habits Die Hard
While reducing the age for first screenings can only be a good thing, patients must also educate themselves and be aware that they're at risk at any age – and up to their physicians to ensure they're aware of that too.
Recent study reviews revealed that under 55s are 58 percent more likely to be diagnosed with late-stage colorectal cancer – and the most commonly cited reason for these dangerously late diagnoses is delay and/or misdiagnosis. Too many people – and physicians – still think of colorectal cancer as something that only effects people in middle or old age. Many physicians diagnose disorders such as Irritable Bowel Syndrome and delay tests. Colonoscopies are rarely done near the beginning of an investigation, despite their status as the 'gold standard' of colorectal cancer detection. Add to this the seemingly inevitable delay involved in waiting for referrals and tests and you have a recipe for disaster and lost lives.
Mr. Morgor, who was involved in the University of Arizona study, warned, "The symptoms are well known, but we expect to see this in a population over age 50. As it's presenting in younger and younger age groups, most doctors are not expecting rectal cancer, so they're treating it as IBS or something else."
Kirsten Freibourg, whose story was told in the New York Times, is a case in point. She was diagnosed with colon cancer aged just 22 – but only after her mother insisted she needed more tests. The doctor who performed the sigmoidoscopy that provided the diagnosis was stunned. "I would never have guessed that a 22-year-old would have had cancer."
Reduce Your Cancer Risk – And Book That Screening
Experts think that the usual culprits of too little exercise and too much processed food are to blame, and alcohol and obesity seem to be linked too. Modern diets can also upset the balance of the bacteria that live in our gut, letting the 'bad' bacteria that are linked to colon cancer gain the upper hand.
How to Reduce Risk of Colon Cancer:
Follow a healthy diet
Get regular exercise
Keep alcohol consumption to a minimum
See your doctor immediately if you have any persistent GI symptoms – and keep returning to them if your symptoms don't resolve or you have any concerns. Insist that you're referred for proper tests to eliminate cancer as the culprit.
Attend your scheduled colonoscopies.
Colorectal cancer is usually curable if it is diagnosed and treated early. So don't delay!
If you're at risk, early detection means early treatment and prevention, which means a colonoscopy could save your life. The expert gastroenterologists at the Digestive Health Centers exceed industry benchmarks for quality and safety, and the medical team is specially trained in endoscopic care. The Digestive Health Centers offer the highest quality care to maximize healthy outcomes.
REQUEST AN APPOINTMENT TO GET SCREENED FOR COLON CANCER
*Contact your insurance provider to learn more about eligibility to get screened at age 45 per the new recommendations by the American Cancer Society.