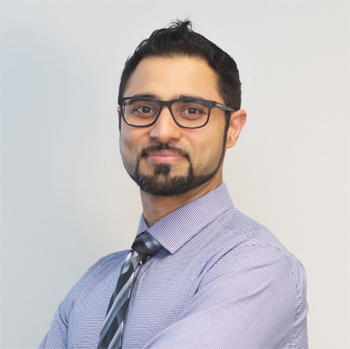 Imad Ahmad, M.D. graduated with his Bachelor of Medicine and Bachelor of Surgery degrees from Khyber Medical College in Peshwar, Pakistan. He then journeyed to the United States, where he completed his residency in Internal Medicine and a fellowship in gastroenterology & hepatology at the University of Connecticut Health Science Center. After his fellowship, he worked as a gastroenterologist at Connecticut GI as a GI hospitalist and did endoscopic ultrasound training.
Dr. Ahmad joined Digestive Associates of Texas in the summer of 2018, and he is most interested in gastrointestinal imaging and GI malignancies. He often performs lower and upper endoscopy procedures, in addition to ERCP procedures and Endoscopic Ultrasound with Fine Needle Biopsy and Aspiration.
Dr. Ahmad is extremely proficient in languages, and he is fluent in written and spoken English, Urdu, Arabic, Pashto, and he speaks basic medical Spanish.
In his down time, Dr. Ahmad likes sports, fitness, computer gaming, science fiction, philosophy, listening to music, and playing the guitar.
Education, Memberships, Awards, and Affiliations
Bachelor of Medicine and Bachelor of Surgery, Khyber Medical College – Peshwar, Pakistan
Residency in Internal Medicine, University of Connecticut Health Center – Farmington, CT
Fellowship in Gastroenterology and Hepatology, University of Connecticut Health Center – Farmington, CT